Regular roof maintenance is vital no matter the elements. However, it becomes even more critical during extreme weather conditions! Persistent rain, high winds, and heavy snow can all wreak havoc on a property's roof.
However, not all roofing materials are alike and each one needs different maintenance when harsh weather rolls in. With this in mind, check out some vital tips for keeping your roof in good condition whatever the climate. Then, discuss your property with a roof repair contractor near you as needed. Their expertise can ensure your property's roof is in good shape year-round.
Your Expert Advice for Roof Maintenance During Extreme Weather
Consider how to maintain any roof during poor weather conditions whatever your roofing materials. First, clean the gutters to help prevent debris buildup of storm debris. Second, invest in a brush meant for cleaning roof debris. You can use this for snow, ice, leaves, moss, and other materials that build up on roofs during poor weather.
Also, trim back tree branches as much as possible before storms arrive, especially if they hang over a roof. This step can reduce debris falling onto shingles and tiles. Give the roof a light spray of diluted bleach and rinse. A bleach coating can help prevent mold and algae from forming.
Additionally, property owners would do well to have the roof inspected for needed shingle or tile replacement before stormy seasons. Replacing those materials before storms arrive protect decking and underlayment from damage and resultant cracks. You might even invest in a protective coating for your roof, for added protection.
Since roof maintenance during extreme weather varies by material, it's good to break down these steps accordingly. Also, remember that a roof repair contractor can offer even more advice based on your area's climate. He or she can also inspect your property's roof for needed fixes or replacement.
Metal roof maintenance
Metal roofs usually require minimal maintenance, as they don't include organic materials that degrade over time. However, a roofing contractor should inspect screws, bolts, and other connectors before and after extreme weather. This step helps ensure the metal panels or shingles are in place after storms or high winds.
Also, as with any roof, it's good to remove snow and storm debris from metal panels. Due to their slick surface and slope, debris might slide off easily. Even so, a property owner should check the roof and brush off remaining debris during or after inclement weather.
Shingle roof maintenance
Asphalt shingles are one of the most affordable and popular roofing options in use today. However, shingles are probably more likely to blow away in inclement weather than any other material! Also, storm debris including fallen tree branches can scrape their granules.
In turn, property owners might invest in roof tarps before bad weather arrives. Tarps block high winds and damage debris. Those tarps can also prevent water from pooling on the roof, reducing the risk of damage.
Lastly, property owners should schedule a roof inspection quickly after inclement weather. Replacing missing shingles quickly protects decking and underlayment from damage. Large "bald spots" or patches of missing shingles need immediate attention! Your contractor can also spot roof cracks and patch them before they become severe.
Stone and clay tile roof maintenance
It's especially vital that property owners maintain clay and tile roofing during poor weather conditions. Heavy clay and stone aren't likely to blow away in high winds. However, storm debris can encourage mold and algae growth, which spreads quickly around these natural materials.
In turn, spray down the roof with diluted bleach if you notice any mold, moss, mildew, or algae. Rinse this mixture thoroughly once applied. Use a soft-bristled outdoor broom meant for roofs to brush or sweep away debris.
Above all, brush off snow and ice from stone and clay tile roofs. These materials can make stone even more brittle, risking cracks. Since stone and clay are already heavy, it's also vital that you remove this added weight. This simple step will help protect the roof against wintertime damage.
Cedar shake roofing maintenance
While wood roofs offer a stunning, rustic appearance, they also might need the most maintenance during inclement weather. Wood roofing risks water damage including buckling, rot, and splitting. Mold and algae also grow easily on wood roofs!
In turn, apply a protective coating to a cedar shake or other wood roof before bad weather arrives. It's helpful to do this regularly no matter your area's climate! A repellant made for wood roofs not only encourages water runoff but also means less risk of mold and fungus.
Expert pressure washing is also a good choice for wood roofs in particular. A power washing pro can remove debris trapped in wood materials while also killing growing mold and algae. Pressure washing can also kill insects who might settle onto a wood roof after storms.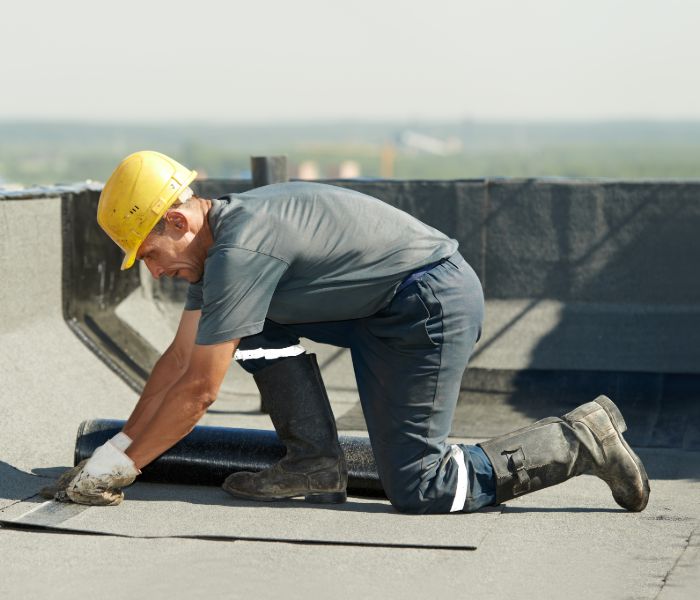 Commercial roof maintenance
Flat commercial roofs are often more prone to damage during inclement weather. Consequently, it's vital that property owners clean their building's gutters regularly. This step encourages water and debris to run off the roof.
Also, ask your roof contractor about rubber membrane coatings for your commercial roof. These inexpensive coatings also repel water while sealing small cracks and other damage. In turn, you can protect the roof and interior spaces from water damage.
Additionally, a property owner should check roof vents and their gaskets for damage. Cracks vent pipes or gaskets risk water leaks during inclement weather. Repair or replace these as needed, especially before rough weather arrives!
The Warwick Roofers is happy to provide this information about roof maintenance in extreme weather conditions. Hopefully we've offered some useful advice! You can also check out our blog for more roofing tips and tricks.