As you wind down from all the holiday activities and prepare for tax season, the last thing that you would probably want to deal with is roof repair. However, you have probably recently noticed that there are water stains developing on the ceiling of your home, indicating that there is a leak present. Money may be tight at this time of the year, however, waiting to get your roof repaired can create even more costly problems. So, before getting reluctant about paying for roof repairs, it is a good idea to determine the cost of roof repair in Warwick. After all, the repairs may be minor and may only cost a few hundred dollars. Let's take a look at some common roof problems and potential costs for roof repairs.
Hail Damage
If you have noticed that your roof is leaking, one of the most common reasons can be from damages from a recent hail storm. Have you had a hail storm in recent months in your local area? Even if the downpour was only a few minutes, this is enough time for damage to occur with your roof. Some of the damage that hail causes is cosmetic. However, if you have leaks in your roof, the damage that it has caused is more than cosmetic and will require that you get all or part of your roof replaced. When roofers come out and inspect your roof, they will look for unusual patterns of damage over the roof shingles. They will also look at other parts of your roof including the gutter and vents to see if they look dented. These are usually tell-tale signs that your roof has hail damage. The good thing about hail damage is that this is typically covered by your homeowner's insurance. However, it is critical that you get a roofer to take a look at this as soon as possible because you only have about a year to file a claim on it. Otherwise, you will have to pay for the damages out of pocket. 
Broken or Damaged Shingles
Another reason why your roof may be leaking is that you have broken shingles. While it may not seem as though this could cause much damage, it does. This is because shingles help cover and protect the plywood underneath your shingles. If the plywood, known as the decking, is exposed to water, it could cause wood rot to develop in your roof. Even a small amount of exposed decking can lead to a big leak over time. If you notice that your shingles are cracked or missing, it is a good idea to have a roofing company look at it right away. Prolonged exposure to moisture can lead to very expensive problems in the long-term including roof replacement which could run you upwards of $7,000 in the local area. Minor repairs may only cost you a few hundred dollars. 
Problems with Flashing
Flashing is a thin material that is found on roofs primarily around chimneys, walls, and around skylights. It is typically made of metal such as aluminum or copper and serves the purpose of keeping water from getting under shingles. If you see leaks forming on the ceiling of your home, it is possible that there could be some problems with the flashing that is causing water to get in. One of the most common problems is that the flashing was installed improperly in the first place. Another issue is that the flashing could be very old or worn. 
Cost of Roof Repairs in Warwick RI
The good thing about all of these roofing issues is that they can easily be repaired. Costs to fix such roofing problems in Warwick could range from $350 to $2,000 with most homeowners paying around $1,100 to get roofing issues resolved. Minor roofing repair may consist of simple tasks such as plugging the leak, replacing missing shingles, replacing the flashing, or plugging holes. The sooner you can get these issues resolved, the less money it would cost in repairs. To keep small roof problems from becoming bigger ones, it's a good idea to establish regular inspections with a local roofer. A highly skilled roof contractor will be able to spot issues with your roof right away and resolve them before they get out of control and end up costing you thousands of dollars in replacement costs.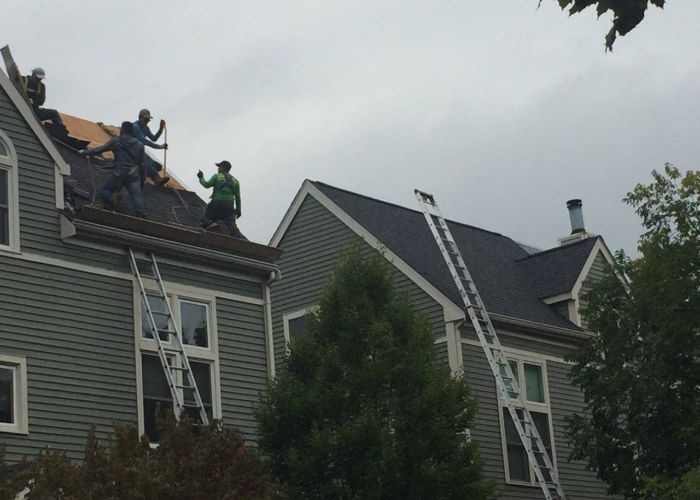 If you suspect you need roof repair, call the professionals at The Warwick Roofers today to schedule your no-obligation roof estimate. Our skilled contractors will come out and determine what the source of your roof leak is and provide feedback on how to fix it. In a short time, we will get your roof fixed and free from leaks. Contact us at (401) 593-0043 and let's get started today!